Septic Absorption Field Services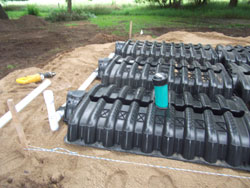 The most common form of on-site sewage disposal is a septic tank/soil absorption system. A conventional septic system consists of a septic tank, distribution box, and an absorption field installed below the soil surface.
Wastewater is distributed throughout the absorption system by pipe, then flows through to the trenches and soaks down into the ground. The soil both treats and disposes of the wastewater. Blockages in the pipe between the home and the tank can usually be cleared with plumbers' tools. If your plumbing backs up suddenly under normal use in dry weather this is probably the problem. However, some pipe blockages caused by tree roots entering the pipe or detergent buildup, can develop over a period of time. More serious difficulties occur when the absorption system becomes clogged or saturated. The most common cause of absorption system clogging is carryover of solids from the septic tank. When sludge and scum are not periodically removed from the tank, they accumulate until they are washed out into the absorption field. Eventually pores in the earth walls of the soil become clogged. A leach field which is only partially clogged may work well during dry weather, but when winter rains soak the ground, or when household use is high, the system becomes overloaded and failure becomes apparent. You may be able to clear blockages in the distribution pipe, but once the soil becomes clogged it will no longer accept the wastewater and you will need a new absorption system. It's a lot cheaper to keep your system working well through proper maintenance.
Septic Tank Pumping Services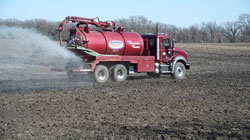 Beemer Companies recommends that under normal conditions, you should pump your septic tank every 1-3 years based upon the number of people living in your home. Generally, this pumping will take around 30-45 minutes. If you know the location of your septic system and have your septic lids exposed, this could save you some money on the back end because our professional pumper won't have to take the time to locate and expose it.